Joined

Feb 3, 2009
Messages

10,800
Reaction score

9
Points

0
Age

52
Location
Website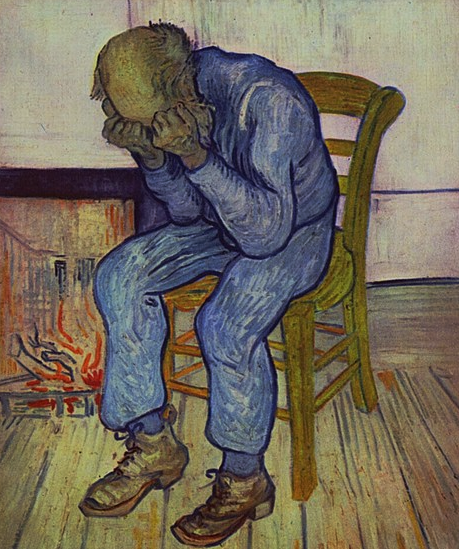 ​
One of the worst things about depression is that other people – even those closest to us – judge us and assume that we should be able to function "normally" just as they do. People suffering from anxiety, insomnia, depression, and other mental illnesses may look quite healthy on the outside, belying an excruciating inner turmoil that is impossible to express. So if we can't hold a job, if we can't make solid commitments, if we can't make it to Church regularly, if we can't do the "normal" things that other folks are able to do, then people automatically assume that we're just lazy, unmotivated, and self-absorbed. And since we tend to feel things much more acutely than most people, then we suffer further from feelings of guilt and shame. We beat ourselves up for being "lazy," "abnormal," and "socially maladjusted." We think: "Everyone around me seems to be able to sleep well, hold down a job, and manage the day to day stresses of life. Why can't I? Maybe I am just a worthless piece of $h!%."
Well intentioned people say: "Just go to sleep at night... Just get a job... Just eat healthier... Just get up and go to Church... What do you have to worry about? Many people have it much worse than you do. etc., etc."
They don't understand that our anxiety is so acute that we can't even fathom flying on an airplane or taking a bus ride, or that we will walk 20 flights of stairs before we will get on an elevator, or that we sit in the very back at Church because we fear having a panic attack in the middle of the service.
And even with medication and therapy (which are divine blessings when administered by truly God-fearing psychiatrists) we still struggle to function "normally." (Of course, who and what determines "normal" is one of the biggest problems we face; and part of our healing process is learning to jettison the expectations and standards imposed upon us by others.)
I would love to travel. I would love to have a job and a steady income. I would love to visit friends and relatives that I haven't seen for years. I would love to sleep 7 or 8 hours a night. I would love to be able to make plans and commitments and be able to fulfill those plans and commitments. There are countless things I want to do that I am simply unable to do. It makes me very, very sad. I feel like I'm missing out on life in so many ways. And I am.
Many people that struggle with depression feel this way. But all we can do is continue to seek spiritual and medicinal help. And even then, we have to deal with well-meaning people who tell us that relying on medicine is a weakness, a mental crutch. And so again we are tempted to feel guilt and shame. Perhaps they are right we think: "If I just had enough faith... if I just prayed harder... if I just went to Church more frequently... if I just read my Bible more and truly trusted Jesus, then I would be healed of all these problems." (And to be sure, all those things are definitely helpful, even essential. But they aren't magical cures. Even holy St. Paul prayed three times for God to remove the "thorn in his flesh," but God allowed it to remain. Do we dare accuse St. Paul of not having enough faith?)
If the people that truly care about us tell us to just pull ourselves up by our bootstraps, then we are inclined to believe them. After all, they love us, they believe in us, and they truly want us to succeed. They are our spouses, our parents, our friends, our priests. So we keep trying, and we keep failing.  More than anything we want to please these people that we love so much. And so we feel the despair of having failed the people closest and dearest to us. And even when our dear friends and family members refrain from saying anything, we can feel their judgmental disappointment: "If he really wanted to, he could overcome all these things."
Depression and other forms of mental illness really suck. They wage war on the essence of our humanity — attacking the heart, the mind, and the soul. And even the people that love us the most never seem to realize just how badly we're hurting until it's too late.
Selam,
+GMK+
"Mental pain is less obvious than physical pain, but it is more common and also more difficult to bear. The frequent attempt to conceal mental pain increases the burden: it is easier to say 'My tooth is aching' than to say 'My heart is broken.'" ~ C.S. Lewis ~

"Everybody passionately seeks to be well-adjusted, but there are some things in our world to which men of good will must be maladjusted. Human hope lies in the hands of the creatively maladjusted." ~ Dr. Martin Luther King, Jr. ~

"He who has learned rightly to be in anxiety has learned the most important thing…  My depression is the most faithful mistress I have known — no wonder, then, that I return the love." ~ Soren Kierkegaard ~

"Pain and suffering are always inevitable for a large intelligence and a deep heart. The really great men must, I think, have great sadness on earth." ~ Fyodor Dostoevsky ~

"Nobody realizes that some people expend tremendous energy merely to be normal. Do not be afraid of spending quality time by yourself. Seeking privacy and solitude doesn't make you antisocial or cause you to reject the rest of the world. But you need to breathe. And you need to be." ~ Albert Camus ~

"I put my heart and my soul into my work, and I have lost my mind in the process." ~ Vincent Van Gogh ~

"Every man has his secret sorrows which the world knows not; and oftentimes we call a man cold when he is only sad." ~ Henry Wadsworth Longfellow ~

"The pupil dilates in darkness and in the end finds light, just as the soul dilates in depression and in the end finds God." ~ Victor Hugo ~

"Anxiety is the handmaiden of creativity." ~ T.S. Eliot ~

"I have had to experience so much stupidity, so many vices, so much error, so much nausea, disillusionment and sorrow, just in order to become a child again and begin anew. I had to experience despair; I had to sink to the greatest mental depths, to thoughts of suicide, in order to experience grace." ~ Hermann Hesse ~

"If you desire healing, let yourself fall ill. Let yourself fall ill." ~ Rumi ~

"In the multitude of my thoughts within me, thy comforts delight my soul." ~ Psalm 94:19 ~
https://awarenessact.com/15-real-habits-of-people-with-concealed-depression/?fbclid=IwAR2NiMl7A2ZKP99D5eV6SmGBDuDWlmHUrvOSEf_aL8dKvIWRc04SpYJgTnU