Joined

Jan 8, 2019
Messages

1,391
Reaction score

53
Points

48
Faith

Roman Catholic
Jurisdiction

Constantine's Lost Rome
I figured it out. I've connected all the dots.
1. Around the 2nd Temple Period, the Apocryphal "Testament of Solomon" is circulated among Jewish and Jewish-Christian communities (probably Christian, because it identifies Christ as the Messiah)
The "Testament of Solomon" tells the tale of how Saint Michael visits King Solomon, and gives him a ring with a five pointed star, "God's sign", to command demons to do his bidding. He then uses the demons to build the Temple.
2. As it's an Apocryphal text, it isn't canonical but this story becomes a part of Oral Tradition among Jews and Christians, in the same way that Satan refused to bow / serve Adam and Eve [from the Apocryphal "Gospel of Adam"], or the Virgin Mary as a Temple Virgin [from the Apocryphal "Protoevangelium of James"]
3. Islam starts.
4. As we know, Islam pretty much copies and paste much of Jewish and Christian Written and Oral Tradition [including Iblis / Satan refusing to bow to Adam]
5. Islam copies and pastes this story of Solomon; however, as time goes on due to oral tradition, the star becomes six pointed instead of five pointed. This story becomes incorporated into the Quran.
https://menasymbolism.com/2018/12/21/the-seal-of-solomon/
6. Because this story is a part of the Quran, a lot of Muslims begin trying to command demons ("jinns") using a ring with Solomon's Hexagram to do their bidding.
7. This becomes so widespread that even today, in our Secular Western Culture, we all know the tale of finding a magic lamp / ring, rubbing it, and a genie (genie = jinn = demon) granting you three wishes - and how often times, they will grant you what you want but in ways that are deceptive / you don't want.
This comes from Muslims doing this practice.
8. Here are a few depictions of demons / djinns from Medieval Islamic Illuminated Manuscripts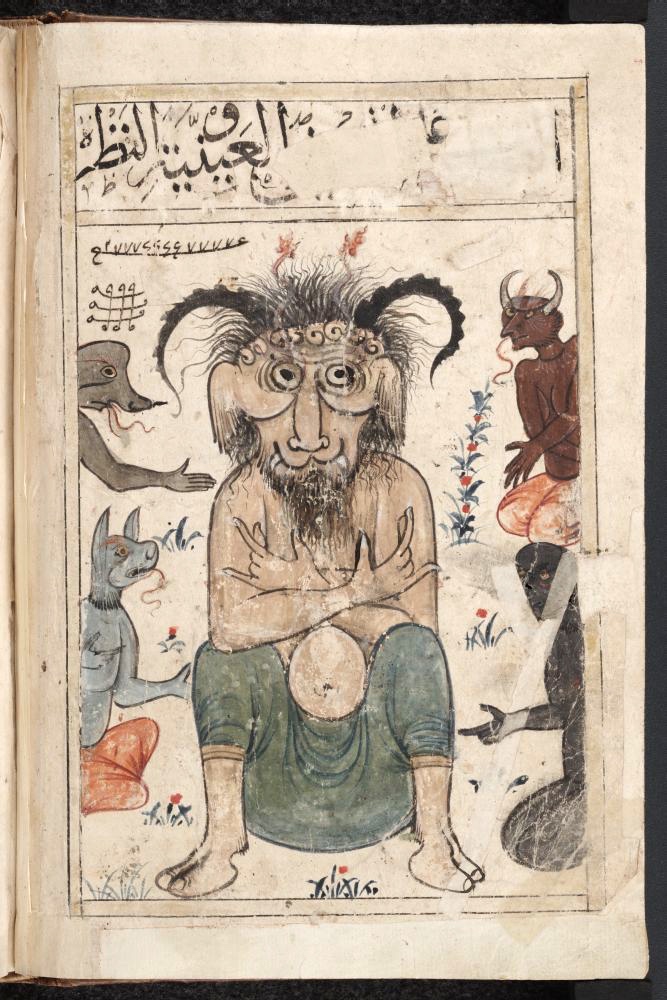 9.
Kabbalistic Jews begin copying the Muslims by reincorporating the Hexagram into their practices to command demons to do their bidding
https://en.wikipedia.org/wiki/Seal_of_Solomon
https://en.wikipedia.org/wiki/Star_of_David#Kabbalistic_use
10. The Templars are accused of engaging in magical practice, talking and worshipping a spirit through a head called "Baphomet".
11.
Eliphas Levi, the apostate Catholic priest who revived Kabbalism, based on his own magical practices, interprets the whole fiasco of the Templars as bored, young single men in the desert who learn about Muslims commanding djinns through "Solomon's ring", so they begin trying it to have some fun and doing it.
He then draws "Baphomet" based on Islamic demonic depictions, believing that Baphomet was a Jinn that was commanded by the Templars / worshipped by the Templars to get money / power / romance